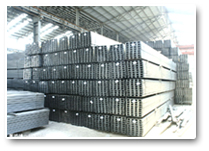 Shandong Hai Steel (Group) Co., Ltd is located in Taian Shandong China.We respectively have built a 2 million tons of annual production capacity of hot-rolled steel production line in 950mm broadband, Two million tons of cold rolled sheet production lines and annual produ ction capacity of 5 million tons of plate,pattern plate, pressure vessel plates production lines, annual production capacity of 1.5 million tons angle steel, H section steel, channel steel, I-beam production lines. One million tons annual output of seamless steel tubes, high-frequency welded tube, alloy steel pipe, spiral steel pipe production lines.
We supply customers in China,Asia, the US, Europe, the Middle East, the Pacific and elsewhere with purpose-designed products backed by comprehensive after-sales service, technical support, and transport and logistics capability. Through our ecommerce network, Hai Steel provides customers with the ability to directly place and monitor orders.
Hai Steel has a professional, experienced group ,in the soonest future ,we will be more perfect,enlarge our purchase and sales net complete our information Platform(ERP) construction,then we will be with more abundant resources, the more favorable price, more flexible and more quality services to meet the needs of customers, realize the goal of "to provide the best product and service to our customers ". join hands with our partners to sharing the benefit and growth, to sharing success!